RR Buildings, Illinois
Kyle Stumpenhorst founded Rural Renovators (RR Buildings) when he walked away from a corporate job to pursue his true passion for construction. He started making YouTube videos on the job site in 2017, and his relatable style and hands-on expertise has made Kyle one of most recognizable, respected sources for builder education in North America. And, though he resists the label of "building science expert," he clearly knows what he's doing when it comes to building structures that perform and last.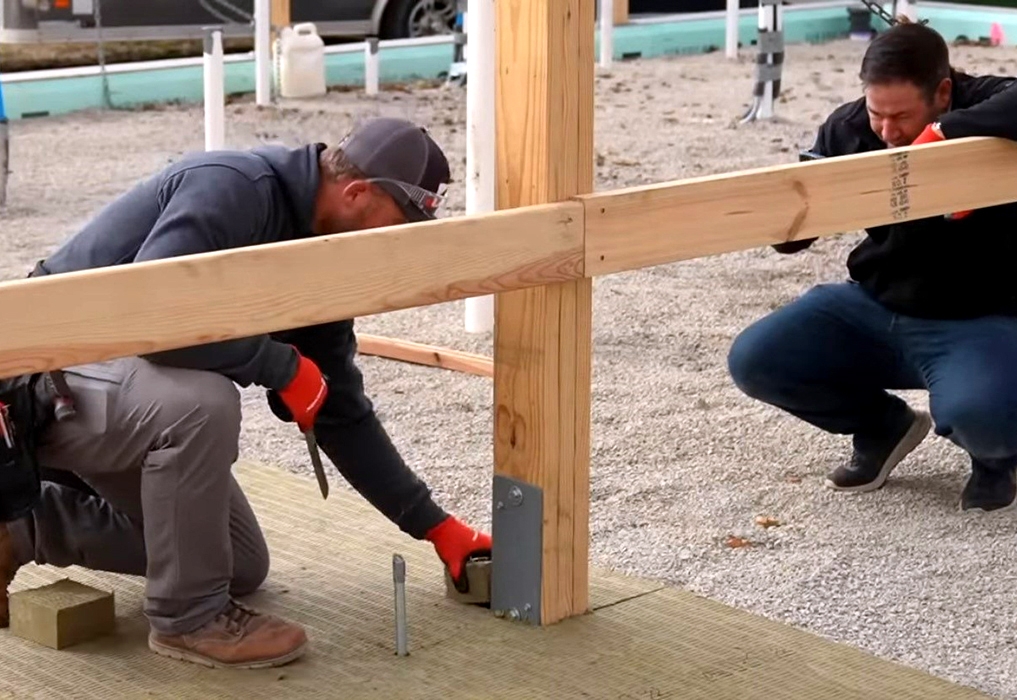 ROCKWOOL's Dan Edelman shares tips to install Comfortboard 80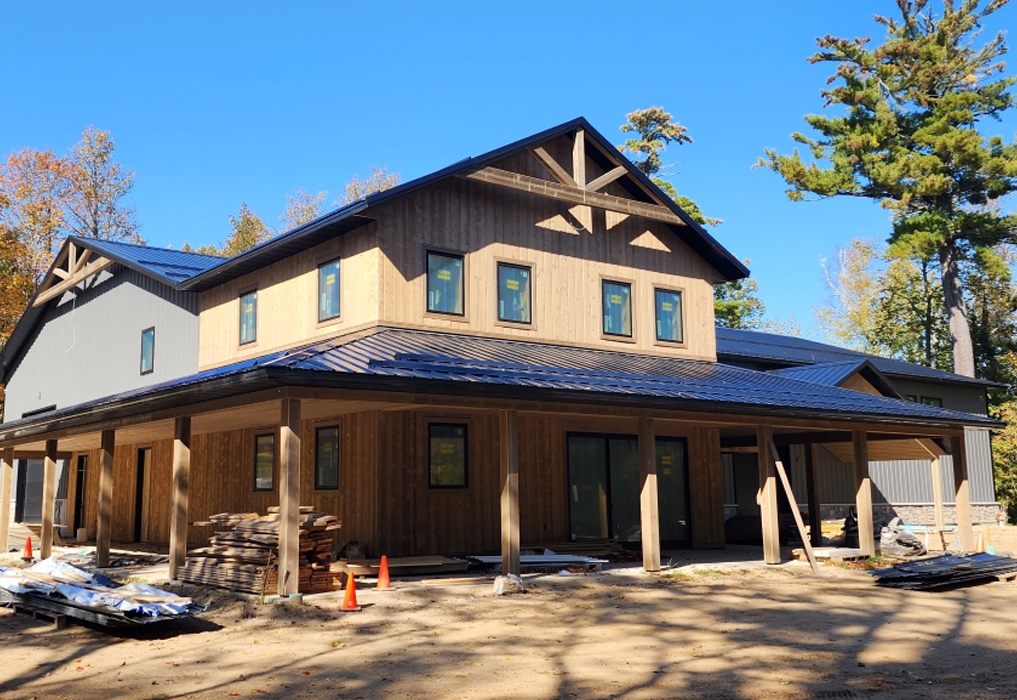 Cladding details on the barndominium.
RR Buildings expertise focuses primarily on post frame construction, a type of build not typically known for energy efficiency and comfort. But the trending interest in "barndominiums" provides a great opportunity for Kyle's team to test their ability to bring high performance building materials and techniques to this type of construction, while not losing sight of the reality of cost and budgets. The term "barndominium" or "barndo" comes from barn, the original post frame structures.
Pushing the Building Envelope
Kyle's most recent YouTube series, "Building The BEST House" includes in-depth and instructional videos on a new post frame barndo in progress for clients in rural Illinois. But why did his client want a barndominium, not a traditional home? The objectives for the homeowners are comfort, energy efficiency, and of course, affordability. According to Kyle, barndominiums could represent the perfect balance between performance and cost. Part of the plan to meet these objectives is using ROCKWOOL stone wool insulation in multiple applications throughout the building envelope—a first for Kyle and RR Buildings.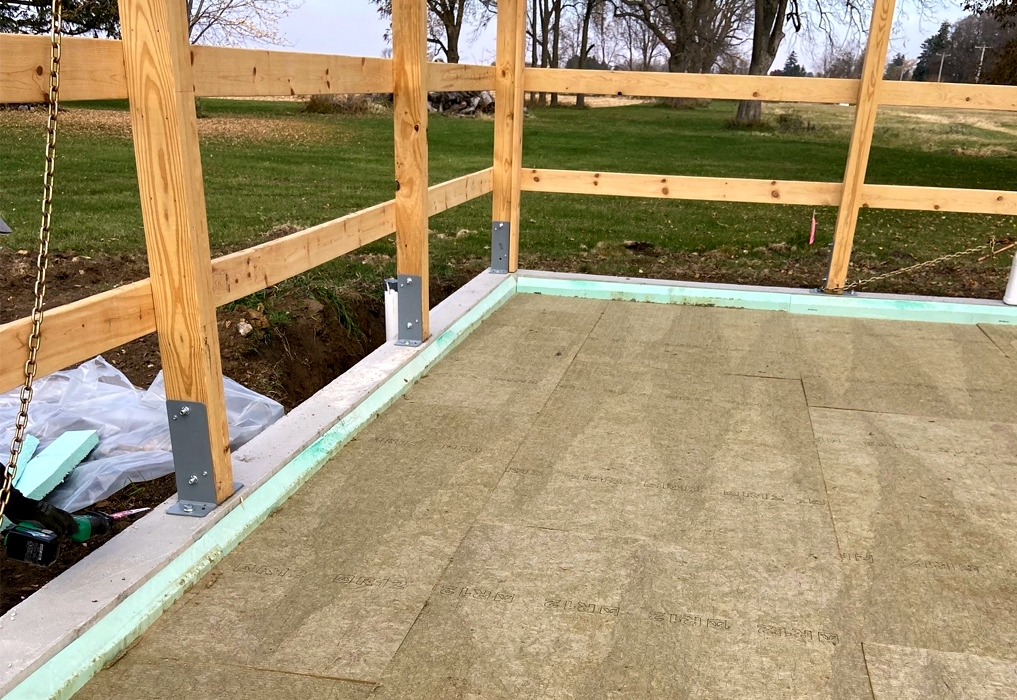 ROCKWOOL Comfortboard 80 sub-slab application.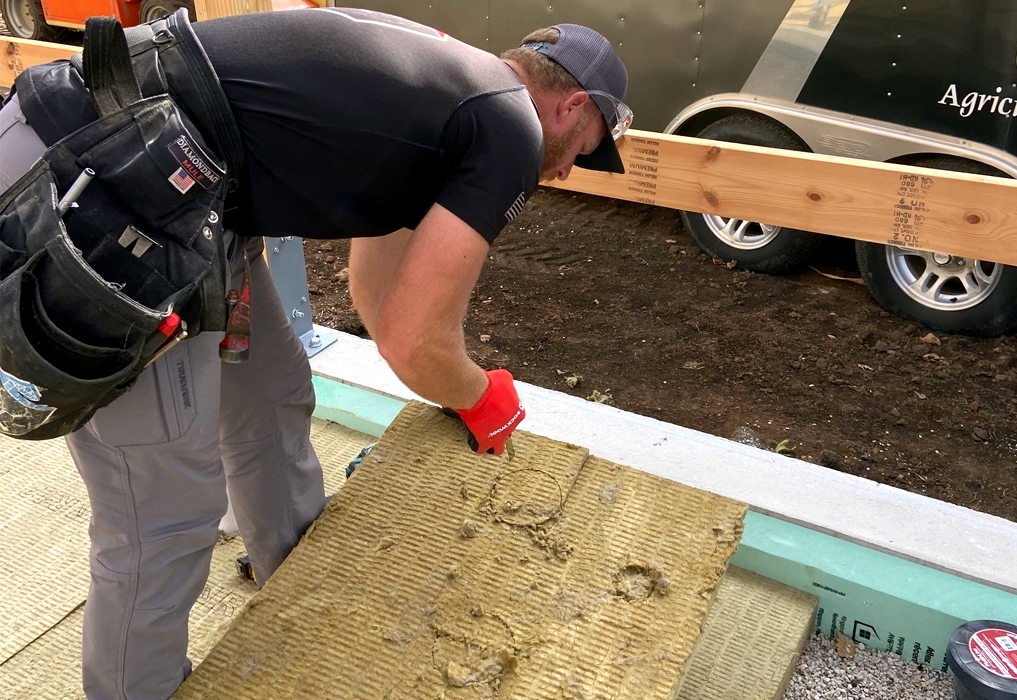 Comfortboard 80 is easy to cut for penetrations.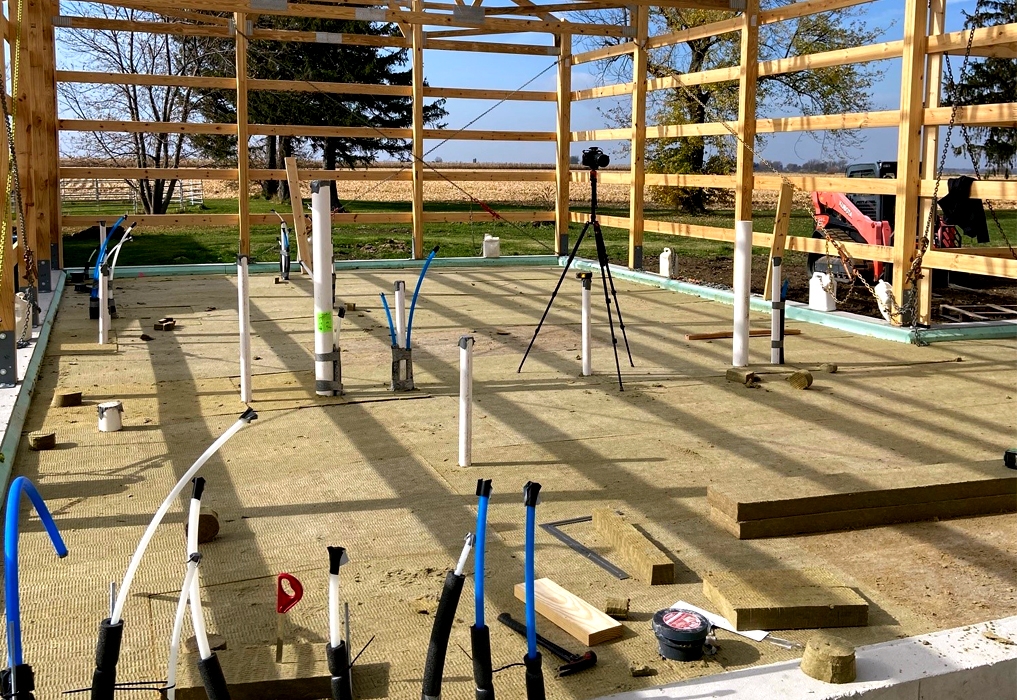 With this many penetrations, getting a tight fit is important.
Balancing Cost and Performance
"We've used ROCKWOOL products in past projects and know first-hand why it's a popular choice among builders," says Kyle. "But this is the first time we'll be using stone wool insulation below grade, under the concrete pad, as well as in the exterior walls and attic. This house is going to be air-tight, comfortable, and durable—it will stand for generations against the harsh climate we experience in northern Illinois."
Kyle chose stone wool in part because of its inherent flexibility in working within a number of different assemblies. "This post frame design includes unconventional spacing in the framing (8') from what you'd typically see in a residential build for both cost and performance; the density of stone wool and ease of installation make it a no-brainer to use for this purpose. It's both flexible and rigid enough to fill the cavities effectively and won't slouch over time." For context, advanced framing is 24" on center in stick built homes to reduce lumber, and increase cavity insulation.
"This product (Comfortboard 80) worked better than I ever imagined"
– Kyle Stumpenhorst, RR Buildings
Kyle's "Building The BEST House" series on YouTube starts with the foundation layout, and dives into the under slab installation of ROCKWOOL Comfortboard® 80 in Episode 3. It's the first time he's using this product in below grade, and continues with ROCKWOOL stone wool batts in the exterior wall, attic, and interior walls. He shares best practices and useful tips to make the installation smooth and effective, all while minimizing waste. You'll see why he says, "This product (Comfortboard 80) worked better than I ever imagined".
Check out the first video now, and also remember to follow here where we'll be going in-depth on each of the different stone wool insulation applications. You won't want to miss the blower door test results, when R‑Class Pro Randy Williams heads to Illinois to measure the performance!
If you're considering a first-time use of ROCKWOOL stone wool insulation in your next project, make sure you check out the First Room Rebate —exclusive to R‑Class building pros!

THE BUILD: BARNDOMINIUM
New construction
Kings, Illinois
Climate zone 5
Advanced* advanced framing 8' OC
2,500 sq ft.
*RR Buildings original terminology
ROCKWOOL stone wool applications
Underslab: Comfortboard 80 R12
Exterior wall cavities: Comfortbatt R21
Attics: Comfortbatt R38 + R13 = R51
Interior Walls: Safe'n'Sound